Return to Headlines
Trimmier Elementary STEAM Day Merges Science, Fun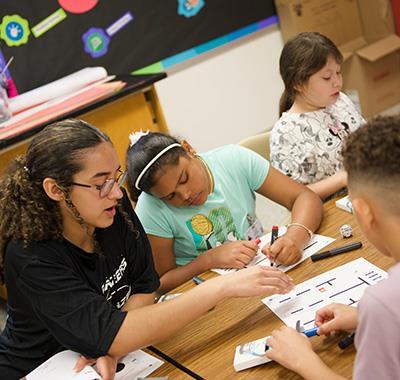 Science and technology concepts morphed into applicational reality during STEAM Day Wednesday at Trimmier Elementary School.
The day of science, technology, engineering, art and math began with an all-school assembly where the school's 700 students learned a few simple traits scientists need whether they are professionals who work in a lab or merely curious about how life works.
Killeen ISD STEM Academy teacher Linda Ayala from the district's mobile STEM lab wore lab coat and called to her side mad scientist "Moofasa," her fired-up-for-science partner.
They led students and staff members through listening games and an "elephant toothpaste" lab culminating with bubbling foam before bringing out a giant ear and pulling various props from it to emphasize the lesson – scientists listen.
A year ago, Ayala and her friend, Milton Ramirez, a former KISD campus technologist, challenged Trimmier fourth- and fifth-graders to think like a scientist. This year, school leaders expanded the assembly to the whole school. "We want them to listen like a scientist," she said, "using those key observational skills."
After the eye-catching assembly, students migrated through stations aimed at engineering, robotics and other technology challenges, as well as a lesson aboard the mobile STEM lab.
This year's STEAM Day also introduced some high school help.
Ellison High School law enforcement and criminal investigation students showed the elementary students how to collect fingerprints. Soldiers from the 89th Military Police Brigade also volunteered. Ellison engineering and astronomy students operated robotics labs with Trimmier students programming tiny spherical robots and racing larger, rolling ones. "We're getting kids fingerprints and teaching them what it's for," said Ellison senior Krystin Johnson, who is set to attend Central Texas College and study law enforcement.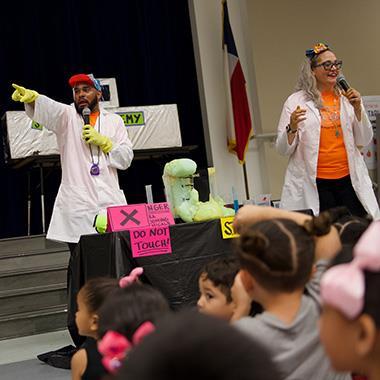 She and her peers worked with students at tables in the cafeteria divided by yellow police tape. Students also worked on fingerprint matching to learn to read the swells that make up prints. "We want to help them get a clear print on paper and to identify fingerprints. We're teaching them how to identify the swells," she said. "I think it's cool," said fifth-grader Siul Franco. "I like making colors – color mixing," he said referencing one of the activities. "We made simple circuits with LED lights, paperclips, tape and a battery and saw it light up," he said. "It's really fun. It makes science fun."
Also throughout the day, students placed donated cereal boxes in domino formation throughout the hallways set to topple at the end of the day, and then give away.
Trimmier students wrote persuasive letters to businesses and asked for donations for the "Cereal Box Challenge." After the domino event, the school donated the cereal to the Killeen Food Care Center. The class that donated the most won an ice cream party.
Assistant Principal Harriett Wrabetz said she was excited to see the Ellison High School students bring their expertise to the STEAM Day, pointing out the exposure could generate interest for the younger students heading to middle school.
The expanded STEAM Day, she said, is attracting interest at other schools and may spread further in future years.