Return to Headlines
KISD STEM Bus Visits Timber Ridge Elementary School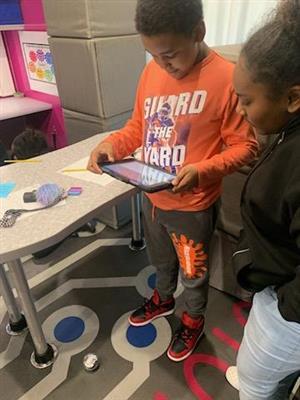 Did you ever wonder how KISD schools prepare students for 21st Century jobs? One way we do this is by exposing students to a variety of hands-on learning experiences designed to ignite a passion for science, technology, engineering, and math. The STEM Bus is a science lab on wheels that brings state-of-the-art technology to elementary students across the district. Last week, the KISD Stem Bus visited the third, fourth, and fifth grade students at Timber Ridge Elementary School.
During the visit, students participated in activities such as building robotics and using computers. Some students learned about engineering by creating a LEGO car. Students were each tasked with creating their own design to include four wheels and an arch to hold their balloon. They used the air in the balloon to propel their cars forward. If the car did not move, they had to reassess the design and make changes. Third grade student, Ronan Maglio said, "It was cool because we got to use LEGOS and balloons to show pushes." Students learned that "Science is about knowing; engineering is about doing (Henry Petroski)." They now know that a successful engineer will sometimes fail, and they will have to improve their design.
Another group of students learned about coding. They viewed a video of a skateboard record holder beating his own high jump world record and made connections to geometry and measurement. Students were then tasked to code a Sphero robot. Students had to use their engineering skills to direct the spherical robot to move in a square. Students also mapped out polygons which they are studying in their current math unit on geometry. Students had on-going discussions about acceleration and speed, as it relates to the drive mode of the Sphero robot. This learning directly connects past Science Texas Essential Knowledge and Skills standards (TEKS) to the Math TEKS students are currently learning in the classroom. "The STEM Bus was pretty cool! We learned about coding which was fun!" said fifth grader, Samiyah Mobley.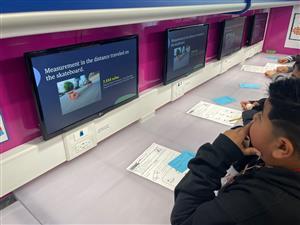 Students working on a computerer Ridge Rangers had a lot to say about their experiences on the STEM Bus. Fourth grader Isabella Mobley said, "I loved going on the STEM Bus. It was a chance to learn something new in science. The inside of the bus was pretty cool! The ladies who helped us learn more about science were also really nice" while fifth grader Dawson Adcock said, "I thought that the STEM Bus was wild! There was so much tech. It was very memorable and fun. I learned a lot of coding. I will certainly enjoy it the next time it returns."
Principal Tanya Dockery added, "Our Rangers absolutely love when the STEM bus visits. It's something they really look forward to!" Ms. Dockery said having the STEM Bus visit the campus was a great way to get the Ranger community excited about their upcoming STEAM Night on February 2nd where students and their families will have an opportunity to participate in a variety of fun, hands-on STEAM activities.