Grant Patrol Spreads Cheer, $95,710 in Funds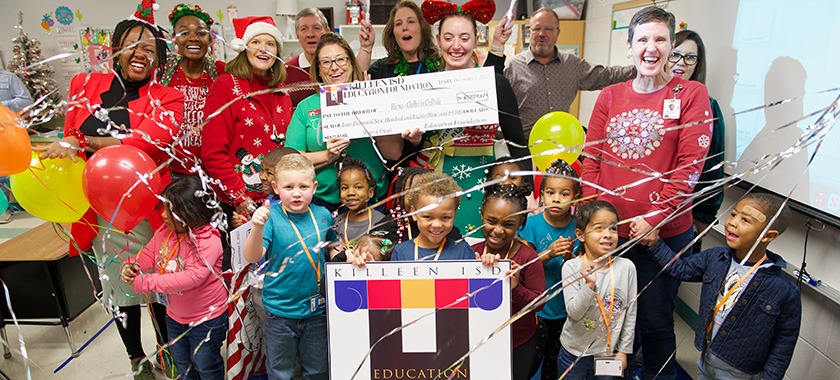 12/2/2022   By: Todd Martin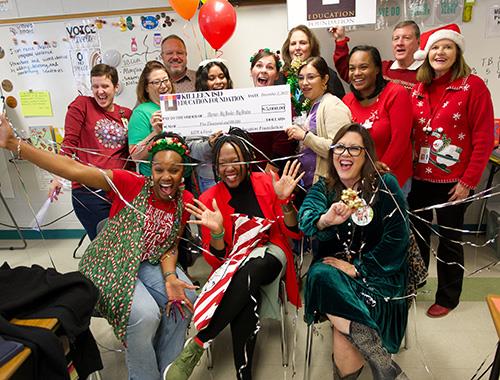 It is the time of year for generous giving and joyous celebrations.
Across Killeen ISD Friday, the Education Foundation staff and volunteers joined campus staff members to distribute gifts in the form of grants to teachers.
The grant patrol representatives made their usual loud, enthusiastic entrances into classrooms all over town delivering 26 grants to teachers at 17 schools to fund exciting classroom learning projects.
This year's grants to KISD teachers totaled $95,710. Two different patrol groups made the deliveries.
Funded through local donors, the grants address a huge variety of topics.
Grants help pay for supplies for projects ranging from archery to child-centered play therapy to computer coding, reading projects, percussion equipment, travel to a book fair in the Dallas area and much more.
Every stop included a surprise presentation with bells, noisemakers, large ceremonial checks, streamers and balloons, resulting in a party at every school.
Education Foundation Director Joyce Hodson pointed out that 18 of the 26 grants are aimed at efforts to improve literacy.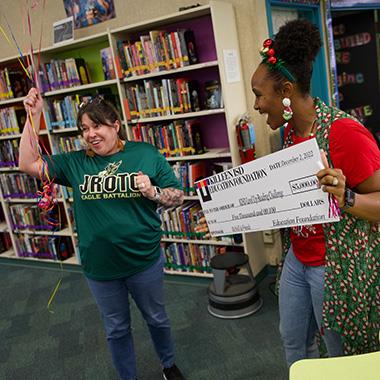 "Studies show that most of our nation's first- through fourth-graders did not develop sufficient reading skills during the COVID school closures," she said. "These grants will help close those gaps."
Two grants are tied to preparing students at three middle schools and six high schools to attend a teen book festival in Irving next March.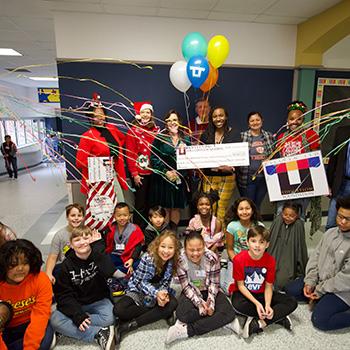 Liberty Hill Librarian Rebecca Fay accepted the $3,364 grant that will fund book clubs at three middle schools and culminate with a trip to a literary festival. "The overall goal," she said, "is to get students to read more and to see how fun reading is."
Two other grants went to librarians at Ellison High School, including one that creates a reading competition among six high schools.
Haynes Elementary School celebrated three times for three grants worth $15,000, addressing play-based learning, math and reading.
Haynes Principal Alice Baumann said the multiple grants speak to the commitment of her staff. "I'm just so proud of my staff," she said. "It takes extra work, and I think sometimes there is intimidation, but they step it up to get what kids need."
She praised Campus Instructional Specialist Jennifer Kennison for motivating and assisting teachers to apply for grants.
Willow Springs Librarian Callie Sanders accepted a $4,927 grant called "Math is so Lit!" She said the funds would purchase updated books to use for building curriculum to creatively teach math concepts.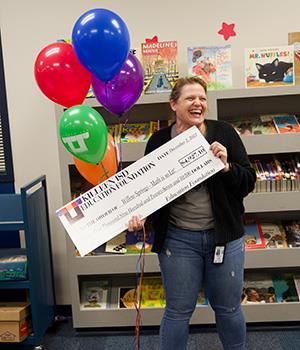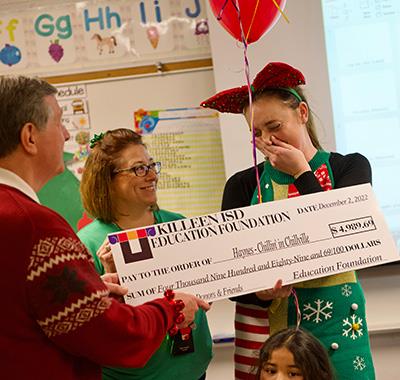 Eastern Hills English teacher Angel Boucher received a $2,428 grant called "Relevant Reading," the first grant she has ever written.
"This grant will help find books that connect to them," she said. Students will get to choose books to read, and form lit groups to discuss the literary elements.
Two other grants provide the annual funding mechanism for a pair of districtwide events. A $10,000 grant will support KISD's Elementary Science Olympiad for 276 participating students from 23 schools.
A $9,996 grant funds the annual Elementary Battle of the Books that includes 125 students from 24 elementary schools.
Since its inception in 2000, the Education Foundation has awarded almost 200 grants totaling $1,242,890. Including scholarships and other programs, it has awarded $3,189,139.
This year's grants include the following:
Mountain View Elementary, "Serenity Den: Where Mind and Body Connect," $3,431.
Harker Heights Elementary, "Aardvarks to Zebras: Reading Through the Animal Kingdom," $4,501; "Getting in Touch with Math," $2,757.
Skipcha Elementary, "Code for Success," $1,650.
Meadows Elementary, "Little Engineers Full STEAM Ahead," $2,179.
Trimmier Elementary, "Wobble for Math," $1,649; "Differentiation for the Win," $2,489.
Hay Branch Elementary, "Where Play Becomes Therapy," $1,500.
Haynes Elementary, "Math Stackers," $5,000, "Big Books Building Big Brains," $5,000; "Chillin' in Chillville," $4,989.
Pershing Park Elementary, "Archery," $4,944.
Ira Cross Elementary, "Just the Facts: Helping Students Get Wild About Reading," $2,661.
Oveta Culp Hobby Elementary, "Social Emotional Learning Book in English and Spanish," $2,472.
Palo Alto Middle School, "Beginning Percussion Equipment," $2,396.
Eastern Hills Middle School, "Relevant Reading," $2,428; "Bright, Bold, Browsable Books," $2,222.
Liberty Hill, Eastern Hills and Live Oak Ridge, "Endless Stories, Endless Inspiration," $3,364.
Killeen Elementary, "Music Classroom Ukuleles," $2,591; "Building Dyslexia One Step at a Time," $2,301.
Ellison High, "LevelUP Reading Challenge," $5,000; "Dear Author Letters About Literature," $1,990.
Timber Ridge Elementary, "Tackling Reading Scores," $3,256.
Willow Springs Elementary, "Math is so Lit!," $4,927.
Districtwide, Science Olympiad, $10,000.
Districtwide, Elementary Battle of the Books, $9,996.
Back
Copyright © 2002-2023 Blackboard, Inc. All rights reserved.