Knights' Sanford Captures KISD Rushing Record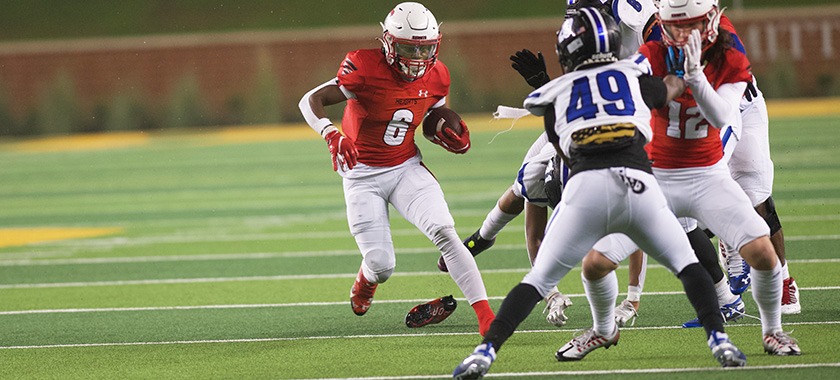 11/30/2022   By: Todd Martin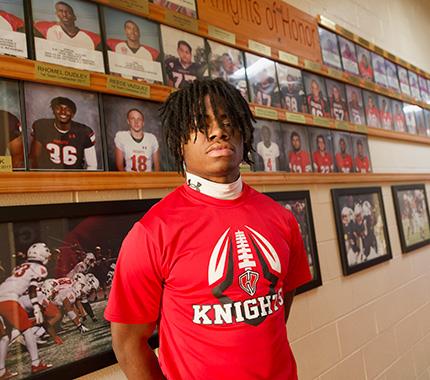 When the Harker Heights Knights meet the DeSoto Eagles in a state quarterfinal football matchup Friday they will have Killeen ISD's top rusher of all time carrying the ball.
When Knights running back Re'Shaun Sanford picked up just over 200 yards last week against Spring Dekaney in the regional semifinal, he surpassed a 26-year-old KISD record.
Sanford has sprinted, dived and bulled his way to 2,513 yards this year to surpass the 2,484 yards that David Winbush amassed in 1996 for the Ellison Eagles.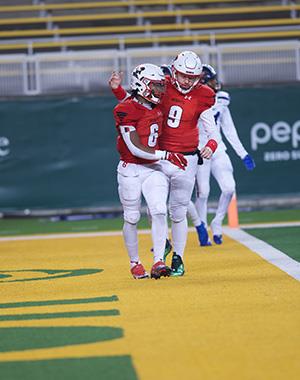 That year, Ellison advanced to the state semifinals in Class 5A, Division I, losing to the Lewisville Fighting Farmers at Texas Stadium, one win short of a trip to the state championship.
This year's Knights have already stamped their mark in KISD sports history.
They are the first KISD team to move to the fourth round of the football playoffs since the Killeen Kangaroos made it to the 4A quarterfinals in 2008, losing to Lake Travis at Memorial Stadium at the University of Texas.
The Knights and their star running back are determined to go even further.
The Knights meet powerhouse DeSoto Friday at Baylor University's McLane Stadium in a 7 p.m. start. The Eagles beat the Knights a year ago 65-28 in a bi-district playoff game.
"I felt like it would be different in the summer," Sanford said Wednesday. "After losing, our off season changed. The mentality changed and we believed we could be the top dog all year."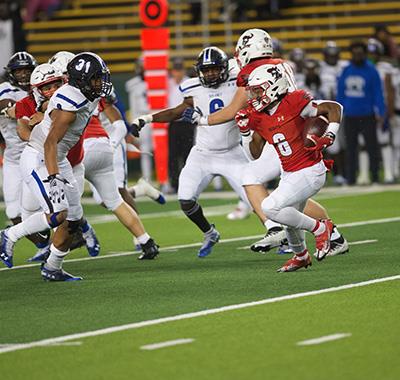 Playing at Baylor University in a Big 12 stadium just stoked the Knights' excitement even more. "The stadium, the atmosphere, was exciting," Sanford said. "We wanted to soak it all in. It motivated everyone a little more."

Racking up yardage every week, the Knights' top runner knew he had to be close to reaching the district record. Coaches and family friends informed him when he hit the record.

"It feels good," he said. "I set a goal as a freshman. I wanted to be remembered and that's what it took. I feel like the hard work paid off. I thank my coaches and my teammates. Really, I'm just happy to have my team win."

Harker Heights Versus DeSoto in State Quarterfinal
Harker Heights coach Jerry Edwards said this year's team has set lofty expectations and exceeded them.

"They don't know about pressure," he said, explaining the Knights' steady determination to continue their season. "They know what it takes to work hard to win."

The 11-2 DeSoto Eagles beat Tomball 38-14 to advance to the quarterfinal against Harker Heights, now 12-1 on the season.

"In the fourth round, they are all contenders," Edwards said of the eight teams remaining in Class 6A, Division II.

"It takes the same mindset every week. As we go, we have to prepare a little harder. At this level, it's about execution and details to be the team that makes the fewest mistakes."
Looking back on what is now the longest football season ever for a Harker Heights team, Edwards said it was the team's single loss that propelled the Knights to another level.
"The loss to Odessa was a big turning point," he said. Harker Heights beat a tough Smithson Valley team, which is 12-1 and faces College Station Saturday in a 5A, Division 1 playoff game.
When the Knights squandered a big halftime lead to lose to Odessa Permian by 1 point on the road, it motivated the team to reach deeper.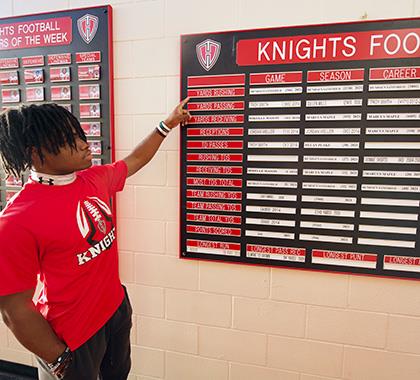 "Sometimes, you learn more when you lose than when you win," said Edwards.
Since that game, the Knights have won nine straight.
"This week, we're on a higher level," said Sanford. "We have a chip on our shoulder. They beat us last year. Now, we're two games from a state championship. There's more and more hype and that adds fuel to the fire."
The running back said his coaches remind the players that "pressure is a privilege," he said. "We can't let the moment slip away."
Sanford thanked the Harker Heights High School band, cheerleaders and dance team for their support on the field, as well as the students, school faculty and other fans that have followed the team even into some cold, wet weather.
"We get a lot of love and support," he said. "We know the whole community is rooting for us. It feels good to know they have faith in us."
Tickets for Friday's game are available at the following:
https://baylorbears.evenue.net/cgi-bin/ncommerce3/SEGetEventList?groupCode=HS&linkID=baylor&shopperContext=&caller=&appCode=
Back
Copyright © 2002-2023 Blackboard, Inc. All rights reserved.