Historic Killeen High School Dedication Set Feb. 17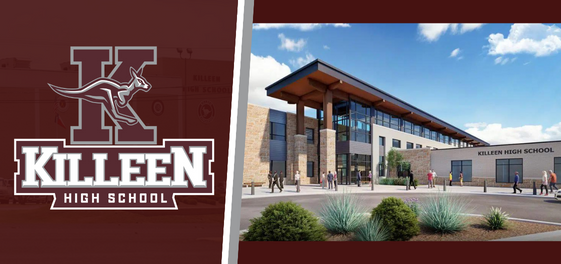 When Killeen High School celebrates the dedication of its huge, historic renovation and addition in February, it might feel something like a graduation ceremony.
The project officially began back in July 2018, just two months after the community approved the $426 million bond package that financed construction of the new Chaparral High School and numerous improvements throughout KISD.
It was four years from design to completion of construction at KISD's flagship high school – 1,170 days to be exact, about the time it takes for a student to finish high school.
No current KHS student has a memory of the district's original high school before construction began. It will be a joyous community celebration at the dedication ceremony beginning at 4 p.m. Friday, Feb. 17 at the new Killeen High School.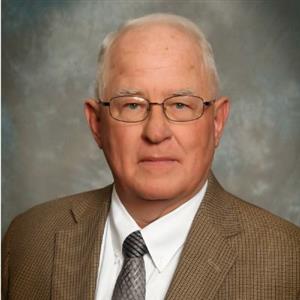 The main speaker is Corbett Lawler, who just a year ago completed his fourth term on the Board of Trustees, ending more than 50 years as an educator, administrator and trustee for Killeen ISD.
At the time, he spoke with gratitude for his long association with the school district, reserving his most fond praise for the 22 years he spent as principal at Killeen High School.
He remembered the excitement of milestones like a track and football state championship. He also remembered specific students who overcame long odds to succeed in a variety of ways.
Mostly, though, Lawler remembered the many people he served alongside and their dedication to a school that loyal employees still refer to as "the original."
Four-Year Project Included 20 Phases
Looking over the numbers associated with the four-year, $85.95 million project, KISD Executive Director for Facilities Services Adam Rich identified 20 separate phases.
During that time, the school administrative team relocated three times. The kitchen and cafeteria closed for a year, requiring use of a portable kitchen, and the practice gym doubled as a cafeteria.
Renovations occurred over the entire 319,399 square feet of the campus. Now, KHS stretches across 400,358 square feet. Capacity grew from 2,275 students to 2,357 students.
A total of 46 portable classrooms and two portable restrooms served student needs at various times during construction.
The first phase of construction included renovated administrative space, special education classrooms, the library and choir and art rooms.
Construction crews built from the ground up, a two-story classroom wing, cafeteria, kitchen, fine arts suite, athletics wing, main entrance and auditorium entrance.
Renovations included CTE classrooms, an auditorium, the main gym, locker rooms and a dance room.
There is also a new bus loop, additional staff parking, a renovated courtyard with turf and outdoor furniture, two enclosed courtyards for CTE classrooms, a converted auxiliary gym for dance space and a concrete marching band pad and tower.
An Emotional, Joyous Journey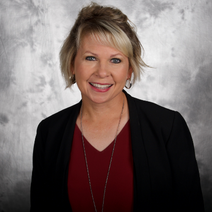 For KHS Principal Kara Trevino, the four years of construction has been an emotional, joyous ride she will never forget.
As a graduate of Killeen High, who taught and coached there before entering administration, the experience has sparked memories of the past and dreams of the future.
"Much of our traditions and legacies have driven our decisions throughout the renovation to help continue sharing the joy and pride of being a Killeen Kangaroo," she said.
Early in the process, Trevino had a chance to get an aerial view of the building from the vantage point of a ladder alongside the auditorium.
"It was a beautiful sight to see in the beginning stages of the construction as I could see the physical changes of the entire building from an ariel view. It is a memory I will never forget."
Deeply connected to the roots of Killeen High School, the principal has marveled at her unique role leading her alma mater through such a historic moment. "It was very emotional in the beginning." She cried during the initial demolition.
"It was what I knew as a young person walking the halls at KHS and what I knew in my first years of teaching and coaching at KHS. I think a lot of former students and staff have felt the same at one time or another as change is not always easy, and it is hard to let go of the things that bring us so many wonderful memories."
"I get to work with our current students every day and know how much they deserve to live and work in a much more updated learning environment," she said. "They definitely appreciate it! Words cannot express the pride I feel every day when I walk the halls and think about what our current and future students have to look forward to."
The KHS staff have hidden messages throughout the new building for future generations of Roos to find in any subsequent renovation project.
When the community gathers to celebrate the new Killeen High, Trevino anticipates a powerful and moving KHS family reunion.
"It is honestly hard to believe we are at the finish line," she said. "When I started this four years ago, I just did not see how it would all happen. I even had my doubts. I hope everyone understands that it took a team effort."
"District leaders have been very supportive. Our construction team and design team are forever in the Kangaroo family. Our students and staff have had to be extremely flexible and understanding, and my admin team has been hands down a key player in helping us run a school while in the middle of a major construction project. I am forever grateful!"
---
Killeen High School dedication ceremony is scheduled for 4 p.m. Friday, Feb. 17 in the school cafeteria
Building tours include swag stops with KHS branded items available
Photo booth includes Kangaroo encounters – photos with the mascot
Back
Copyright © 2002-2023 Blackboard, Inc. All rights reserved.