Killeen ISD Names Lone Finalist in Superintendent Search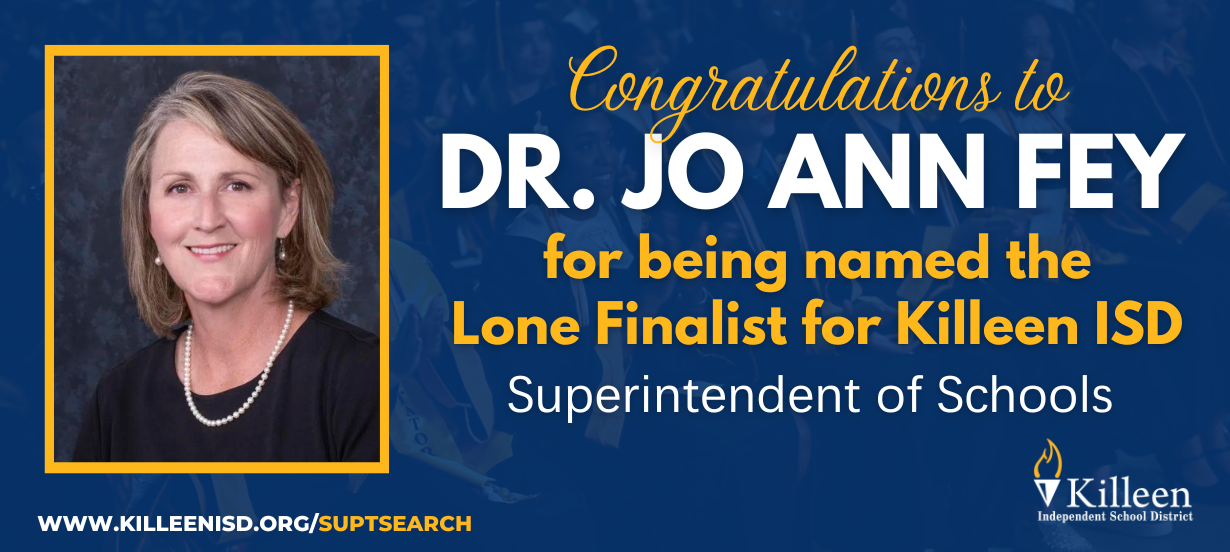 The Killeen Independent School District Board of Trustees named Dr. Jo Ann Fey as the lone finalist for the district's position of Superintendent. The announcement follows a 6-0 vote by the Board of Trustees today at a Special Called Meeting. Ms. Purser was not in attendance but submitted a statement sharing her confidence in the decision. Dr. Fey is currently the Superintendent of Midlothian Independent School District.

"The Board of Trustees is excited to announce Dr. Fey as our candidate to lead our organization to new heights of student achievement. She has a proven track record of successfully working with sub populations that greatly resemble those of Killeen Independent School District. Not only has she been successful with these groups, but it is also where her passion lies to serve," stated Board President Brett Williams. "She is authentic in her desire to create pathways to excellence for all students. Her commitment to accountability and discipline at all levels of the organization will be a tremendous asset for our community. Her full body of work in the education field is a perfect fit for our community and district."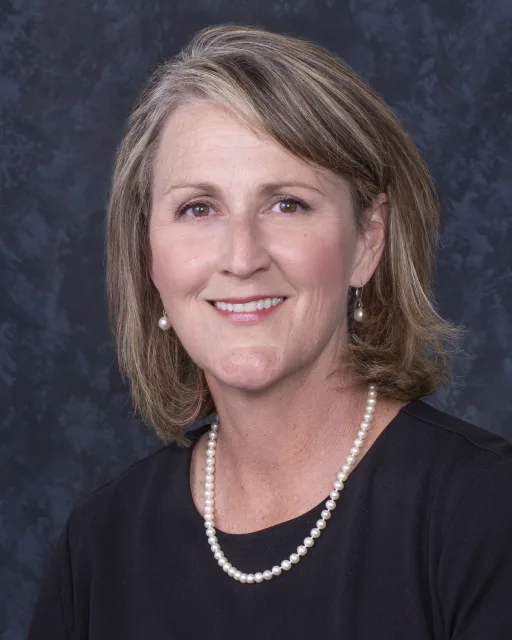 Dr. Fey has 27 years of educational experience, 25 spent in Southwest Independent School District in San Antonio, Texas. There she served a majority-minority community that exceeded state averages for at-risk and economically disadvantaged students. During her tenure, she has held the positions of varsity basketball coach, assistant principal, academic dean, and principal. She also served Southwest ISD as Executive Director of Student and Adult Leadership Development and Assistant Superintendent.

Dr. Fey shared her excitement following the announcement, "I cannot wait to work alongside a board and community that has a relentless focus on excellent outcomes for ALL students with a specific interest in underserved populations while still upholding competitive co-curricular and extra-curricular programs!"

During her tenure, Dr. Fey was integral in Southwest High School and Southwest Independent School District, evolving from poor performing to highly recognized. She successfully led the turnaround of Southwest High School during her five years as the principal. During her eight years as Assistant Superintendent, she was instrumental in the coaching and development of campus principals and assistant principals. She also oversaw the launch of the district's Talent Management and Acquisition Department; designed to create a pool of talent that is ready to fulfill the district's leadership roles.

In 2021, Dr. Fey was named Superintendent of Midlothian Independent School District, a fast growth district of 10,000 plus students located south of the Dallas / Fort Worth Metroplex.

At the core of Dr. Fey 's approach to a student-focused district is accountability at all levels of the organization. "We have got to make sure our teachers are not just told they are supported, but that we provide the training, resources, and in-person support to ensure that our students and teachers have the best possible experience. We must ensure that our campus leadership teams are properly trained in all aspects of leadership and, even more importantly, they get exposure to various types of leaders with different skills to help them grow and evolve. I am a huge believer in targeted training to improve weaknesses. I continue to expose myself to targeted training, and that will be the same approach for our district team."

Her education includes a Bachelor of Arts from Southern Methodist University, a Master's of Science in Administration from Central Michigan University, a Master's of Education from Houston Baptist University, and a Doctorate in Educational Leadership from Lamar University. Dr. Fey has also successfully completed the District Leadership Program and the Superintendent Program at the prestigious Holdsworth Center.

Dr. Fey is married to William Fey, who was stationed at Fort Cavazos while in the United States Army; together, they have three children. Their adult son is a teacher, their eldest daughter is a collegiate athlete, and their youngest daughter will attend Killeen Independent School District.

The Board of Trustees will vote on Dr. Fey's official hiring after the state-mandated 21 day waiting period has elapsed.
Back
Copyright © 2022 Finalsite - all rights reserved.