KISD Bands Provide Powerful Salute to Veterans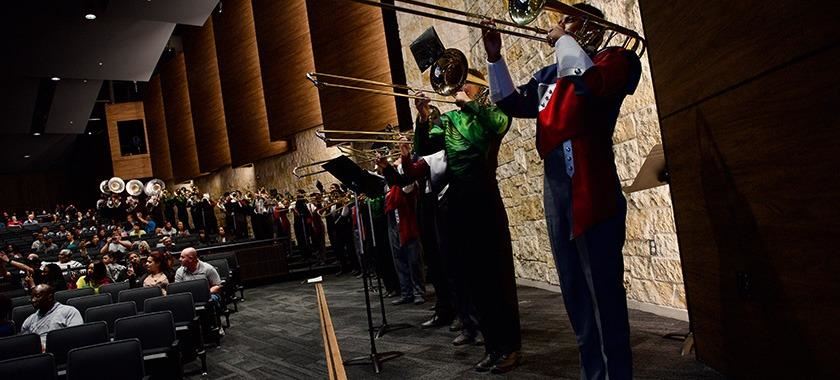 11/10/2022   By: Todd Martin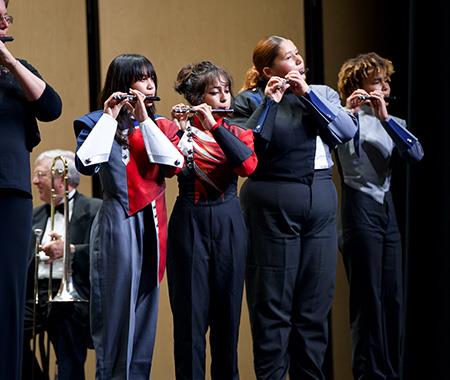 Five Killeen ISD high school bands provided powerful musical tribute, honoring America's heroes in a moving Salute to Veterans Wednesday at the Chaparral High School auditorium.
Between each band's performance, a student in the band shared testimony of their life growing up as a military child.
To end the tribute, the Harker Heights Community Band took the stage and after performing, welcomed back the five high school bands for a stirring grand finale.
The band members – dressed in five different school uniforms, stood at the back and on the sides of the auditorium and filled the space with patriotic hymns of the nation, "God of Our Fathers" and "Stars and Stripes Forever."
Killeen ISD Assistant Fine Arts Director Garth Gundersen provided narration and welcomed and thanked the Veterans in attendance.
Tracey Brown-Green, the National Women's Veterans Issues Officer and a Veteran of Iraq and Afghanistan spoke about her harrowing service and her continuing commitment to Veterans in need.
The Chaparral Bobcat wind ensemble began the event with "Coast Guards March." Senior Ashley Carter, one of the band's drum majors, spoke about her life as a military child.
Her dad is an active-duty soldier, continuing a family tradition that dates to the American Revolution, she said.
Carter described an upbringing that includes family service in Veteran cemeteries and visiting Veteran hospitals.
She said she has learned that instead of thanking Veterans for their service, "you should say, 'welcome home.'" The student urged audience members to find a Veteran in need and serve them.
The Ellison High School wind ensemble performed "Under the Double Eagle." Kiki Andrade described her experience as the daughter of an active-duty soldier.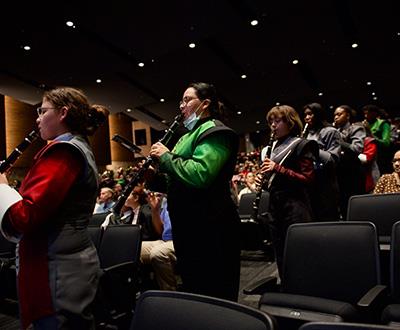 She praised her father for doing humble, but critically important work as an Army mechanic. Her soldier dad has served in numerous countries, including a deployment to Liberia during an Ebola outbreak.
"He inspires me," she said, explaining how her dad contributed to providing new roads and filtration systems for a small, developing African nation.
The Killeen High School wind ensemble performed "American Finale," an arrangement based on "America." Amarion Ballard spoke about his grandfather.
Ballard said his grandfather entered the Army at age 18 and served 30 years, then went to work for the military as a civilian. He described the longtime serviceman as an important male role model in his life.
The Shoemaker High School wind ensemble performed "Indivisible." Amaury Covington described his life as a military child.
Covington said he valued the experience of traveling all over the United States and beyond, including a stint in Guam. He has learned about different cultures, a new language and sampled a variety of foods.
Still, he said, "it's always hard to move. It takes a toll on my family." Covington described picking up and moving to different places and the difficulty of saying goodbye to family members deploying.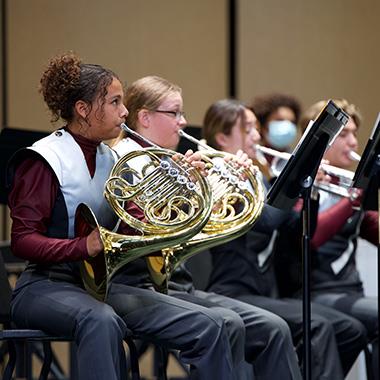 The combined Harker Heights band, orchestra and choir performed "Hymn to the Fallen." Senior Jonathan Duenas, a drum major, spoke of the importance of band and music as he has adjusted to life as a military child.
"It's never easy when my father has to leave," he said. "I found music. Band is a family, a place to belong," he said. "Thank you to band programs everywhere for kids like me who don't know what home is like."
During a stage transition, Brown-Green spoke of her service, including a traumatic day in 2016 when an Afghan worker blew himself up, scattering ball bearings and leaving her injured and traumatized.
Unaware of her injuries at first, the determined sergeant first class labored with other soldiers to treat and move 12 injured American soldiers with more serious wounds.
After long rehabilitation, Brown-Green retired in 2018 due to her lingering injuries and stepped into other roles, including helping female Veterans navigate their own mental and emotional issues.
"I'm wounded, but not broken," she said. "To all the old Veterans, welcome home."
Back
Copyright © 2022 Finalsite - all rights reserved.