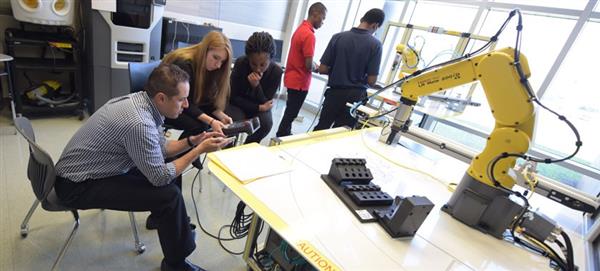 The sheer numbers and the developing variety are impressive, but there's far more to the Killeen ISD Career Center than facts and figures.
The specialized high school on Stagecoach Road in Killeen is in its seventh year and it is larger and more diversified than ever. Great as that is, there's more to the story.
Principal Russell Porterfield and the rest of the school's leadership team hope that students, parents and other community partners understand that the Career Center provides not just relevant, marketable skills, but "competitive advantage."
"There are some who think this school is really for those students not going to college," he said while updating some of the highlights on the campus. "Many of our students will go on to college and some won't, but in all cases these certifications provide a competitive advantage."
The principal said he knows of a specific student studying automotive repair who plans to be an engineer. In the process of learning that complicated profession, the student will benefit from knowledge of automotive repair.
Ellison High School's 2018 valedictorian Analisse Quinones was an all-day student at the Career Center. Extremely bright and multifaceted, she was on her way to the University of Texas business school and leaning toward the medical field. She took photography and graphic design courses at the Career Center.
"There is a competitive advantage here for all students," Porterfield said. "You can gain an advantage by finishing any of these programs."
This year, the Career Center is unveiling its STEM robotics program. Students in the second-year class built miniature rovers as a beginning project, are adding sensors and cameras to their vehicles and later will build drones. Practicum students are working with a robotic arm, installed in the first month of the school year.
Robotics instructor Jason Arrabito worked alongside his four practicum students to enter coding to program a Fanuc robotic arm, a miniature version of the kind used in a variety of manufacturing settings.
The experience, Arrabito said, gives students a hugely marketable experience. By the end of the school year they will have a chance to hold a professional Fanuc Robotics certification, tied to a company that claims 50 percent of the global robot market share, he said.
"Robotics shows that anything is possible," said senior Christopher Riley, one of the first Robotics Practicum students. "Imagination is the limit – never has that been a truer statement than now." He plans to go into electrical or biomedical engineering.
The school is also building its networking program with a growing cybersecurity focus to train students to enter the high-demand information technology field or to continue training for the more specialized cybersecurity field.
Another developing area is dental assistantship. The initial class started last year and now 15 seniors are getting work on dental equipment and will soon have practicum experience in the that health-related field.
Along with health care, digital design, welding, construction and the other fields, teachers are placing a focus this year on the school's core values that speak to business leaders' needs nationwide.
"Every business leader you read about talks about the issues of soft skills or professional skills," Porterfield said. "We're encouraging teachers to design lessons with our core values in mind." Those values are collaboration, honesty, integrity, professionalism, responsibility and service.
Currently, the school offers 33 programs of study in 13 career clusters. Last year, students earned 59 different industry certifications. Enrollment stands at 1,735, including 117 in both morning and afternoon sessions. The school draws 18 percent of KISD's high school population.
Impressive numbers, but not nearly as impressive as the people at the popular school.
Robotics teacher Jesus Mancillas, an engineer, military retiree and former law enforcement agent is having a ball in his third year of teaching. In fact, while his three second-year robotics students built their rover, he did the same, working alongside students.
"I love it," he said, showing the video of the six-wheeled, battery-powered, remote-controlled unmanned vehicle called a "Marz Rover" that he and his students built. They plan to compete in a "search and rescue" event through Skills USA in the spring.
All three second-year robotics students took the first-year course at Shoemaker High School and are also taking a practicum course at the Career Center. Senior Ophelia-Eden Brown began taking STEM classes as a freshman and couldn't get enough.
"I like it," she said. "I've built robots, but never a rover. There are new wheels and parts. It's a new experience." She plans to go to a trade school after high school and eventually be a physicist.
"I think it's really fun," said senior Damen Hill, also a second-year robotics student. "I've always worked with my hands. I've been fixing by brothers' toys for as long as I can remember. Just being able to do it is what I like. I like doing something productive."
Like many Career Center students, senior Khalil Light said he is pursuing a wide range of interests. He is in the robotics course with Hill and Brown, but also took floral design and is a member of the National Science Honor Society.
"What's most exciting for me is that we have staff who value the work we are doing and they are so dedicated to our students," Porterfield said. "They have worked hard and we have had a smooth start. They care about students."
Warren Kostencki, program advisor for Career and Technical Education explained the excitement of starting a new year at the Career Center.
"I love the new school year," he said. "It's all about seeing the students and taking them further. A lot of us out here feel like we've been called to help students find their place in the world."