Spirit Spectacular Shows Off KISD Marching Bands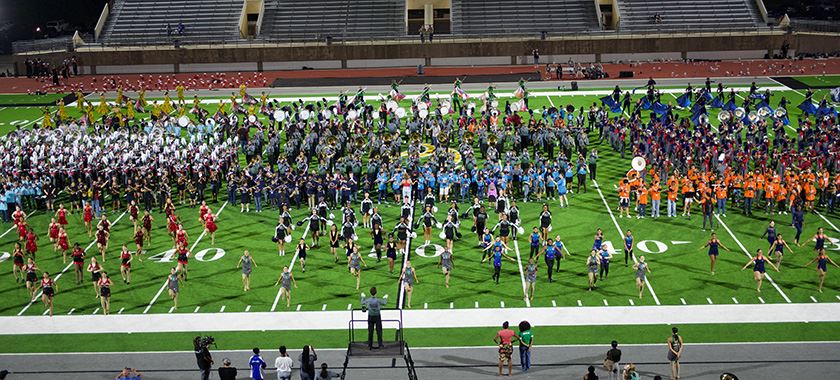 9/26/2023   By: Todd Martin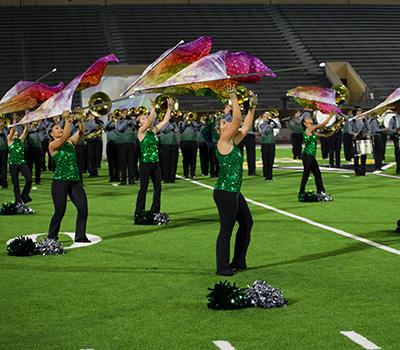 Spirit Spectacular has come a long way since parents gathered in the Ellison High School parking lot for a summer band camp showoff.
This year's annual spectacle, 45 years after the initial gathering with Ellison and Killeen high school bands, included KISD's five high school bands and 11 middle school bands Monday at Leo Buckley Stadium.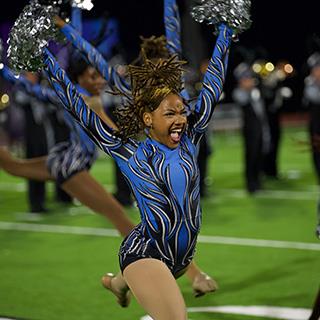 Ellison Band Director Erik Reynolds may have as broad a perspective as anyone on the biggest ever Spirit Spectacular.
He played in the Ellison band as a high school student more than 30 years ago and this year was the main organizer of an event that gathered area marching band enthusiasts from decades past.
Each high school band performed their current contest show and to end, all five joined 11 middle school bands for a grand finale – a "Spectacular finale" – with more than 1,100 musicians spread across the stadium turf.
"It's such a huge endeavor to put this many students on the field," Reynolds said of the event that began in the planning phases last April. "It's great to see all the parents. It's not one school versus another. We all get to share in this together."
After each high school band performed, middle school band students joined their older peers on the field. They played the song "Danger Zone" as a middle school feature.
The grand finale combined the high school and middle school bands with dance teams, color guards and high school cheerleading teams playing the Jackson Five song, "I Want You Back."
Ellison Drum Major, junior Jonathan Dominguez led the enormous, combined band.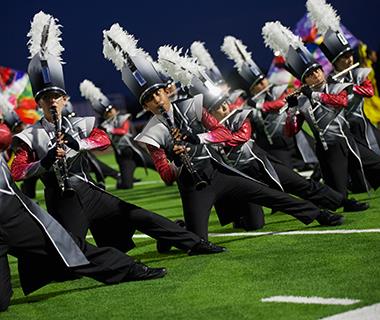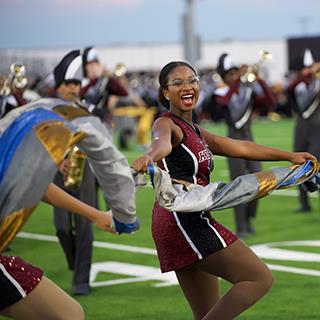 "It was a lot of pressure," he said. "I think we all came together and had a nice big sound. I think it helps show (middle school band students) what is to come for them if they stay in band. It helps get them excited and committed to band."
The Screaming Eagle Band performance included the national champion Ellison Emeralds and the re-formed Excalibur color guard. The show, called "Beyond the Rainbow," included music from the "Wizard of Oz" and an on-field choral soloist.
"Our show is a different direction for us with our visual elements and how the band moves on the field. Overall, I'm super proud of the band," said Dominguez. "We have a strong commitment of what the standard is to be in the Screaming Eagle Band."
Between each high school performance, KISD Assistant Fine Arts Director Garth Gunderson interviewed a pair of students on the field about their thoughts on performing with the band, dance team or color guard.
The interviews appeared on the scoreboard screens with the help of KISD-TV, which recorded the event.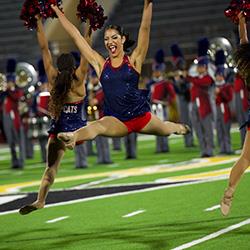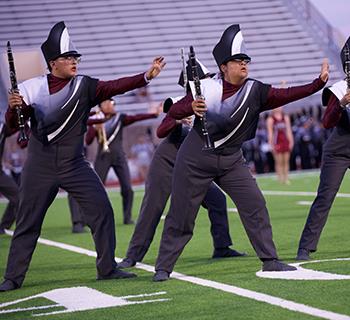 The Chaparral Bobcat Band performed a show called "Heist," that included elements of a cityscape and a diamond snatching storyline set to popular music by Radiohead and Rhianna.
Chaparral Color Guard Captain Keri Davis, a senior, said the show allowed her to explore different characters.
"I like how we can bring out another character in us," she said, comparing the show to the movie, "Ocean's 8." "We have mixed emotions within us so that's cool – we get to have bold vibes and happy vibes. It's all top tier."
"It's kind of intimidating," she said. "There are expectations to meet. Us as a new school, we have to top it. When we come together as a family, it's so good. We have to come up together."
The Harker Heights Red Brigade Band, with the Crimson Belles dance team and Avalon color guard performed a show called "Songbird," that included a choral ensemble and multiple sets and soloists.
The Heights band also received a special show of support from the Knights football team that gathered on the sideline during the performance to root on the band that backs them up at every football game.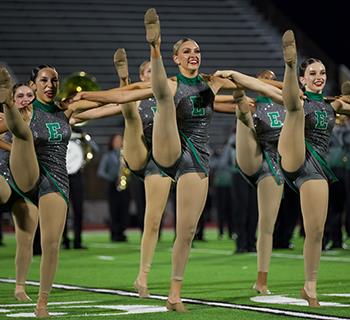 The Shoemaker Wolf Pack Band show, "Call of the Wild," is a homage to the school's mascot that features musical runs and brass and drum features in a fast-paced set with the Silver Stars and color guard.
The Killeen Roo Band show is called "Rise." "It represents a Phoenix rising from the ashes," said Killeen High Drum Major Dakken Thurston, a senior. "I love how the show is put together and how the students have come together to work hard."
"I love everyone coming together. So many bands with such unique shows. I love KISD bringing all this together. They are really fantastic this year," he said.
In the beginning, Spirit Spectacular featured two bands – Ellison and Killeen – intermixed across the Buckley Stadium turf, Reynolds recalled. In later years, Temple and Copperas Cove joined and KISD middle schools as well.
In recent years, Spirit Spectacular has been a KISD high school band spectacle the Saturday before the start of school. Harker Heights High School Band Director David Norris helped initiate a middle school band event called MSX – Middle School Extravaganza.
This year's expanded Spirit Spectacular brought the two events together on the eve of the start of the high school band competition season.
On Saturday, October 14, all five KISD high school bands will compete at the Region 8 Marching Band Contest for 4A, 5A, and 6A bands at Midway ISD's Panther Stadium.
Back
Copyright © 2022 Finalsite - all rights reserved.