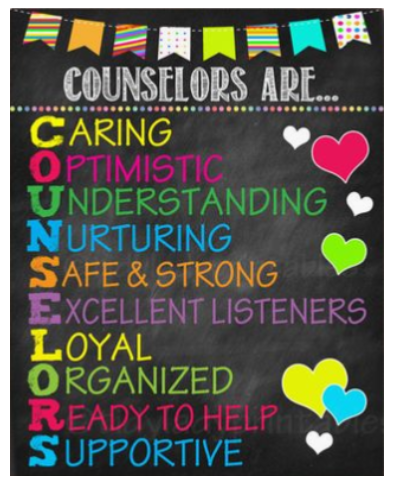 Phone:
Email:
Degrees and Certifications:
What is the counseling program?
Our counselors support our school so that our students are able to meet their academic, social, and emotional potential. Children learn best when all of the needs are met, and our school counselors assist when a child is dealing with issues ranging from study skills to peer relationships. We accomplish building these skills through developmental guidance lessons on topics such as character development and life skills lessons aligned with state and national standards, school wide service projects and character programs, providing counseling related resources to parents and staff as needed, and teaching social skills, personal skills, and academic success strategies through classroom lessons, small groups and individual meetings. We provide responsive services that address the immediate concerns of the students while also providing preventive services in the areas of academics, career, and personal-social development through the use of classroom lessons and small group/individual meetings. Our groups may include topics such as divorce, changing families, anger management, grief, and friendship, all of which include coping skills to build emotional regulation skills.
Our counseling standards and goals include the following: Friendship and social skills, conflict resolution, anger management skills, coping skills, social and personal awareness, responsibility to self and others, choices and consequences, self-esteem, career education, academic success skills, personal safety, and goal and decision making skills. Our character education program is aligned throughout the district to promote the following character education traits: Respect, Self-Control, Responsibility, Empathy, Teamwork, Problem Solving, Integrity, Perseverance, and Honesty. Each month we promote a new trait and base our classroom lessons off of that trait.
We accomplish teaching these topics and building these skills in many ways: building positive relationships and connections at school and in the classroom among both staff and students, discussing anything from little things to big things, drawing pictures, playing games, helping students develop academic, problem solving, social, and coping skills to help them adapt to problematic situations they may encounter, assisting students in processing difficult events, and providing a safe, unbiased, and open setting in which they can feel free to share their feelings. We use these strategies to normalize each child's experience to ensure no one feels left out, singled out, or different from anyone else. When each child has all of their social, emotional, and academic needs met, they are ready to meet their highest potential, which is our goal for each student.
In addition to our working on these goals with our students in school, our staff and parents are integral to this process as well. We invite you to get involved by volunteering at our school (see our Parent Liaison Ms. Smith for details) and contacting us should you have any questions, concerns, suggestions, or be in need of assistance.
Deborah Devito
Stephanie Mobley
Christina Brown