Killeen ISD Special Olympics
In partnership with Special Olympics Texas, Killeen ISD is working towards achieving greater inclusion for people with intellectual disabilities through the power of athletics.

We work together to provide sports training and athletic competition for children with intellectual disabilities in a variety of sports. This, we believe, is critical in assisting special needs athletes in developing physical fitness, experiencing the excitement of competition, and striving to be their best.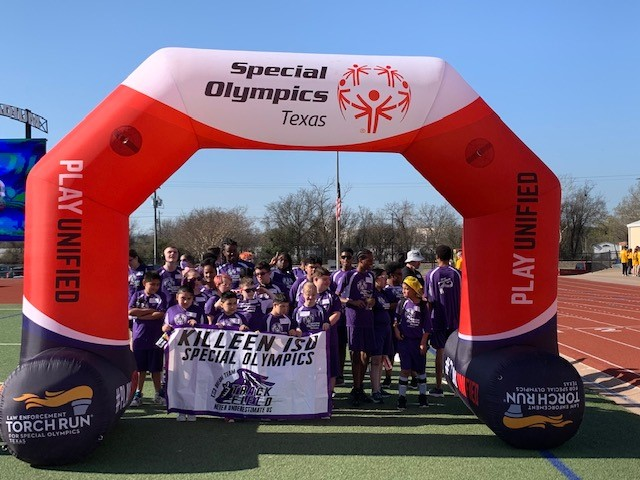 Athlete Eligibility
Actively enrolled Killeen ISD students ages 8 years old to 21 years old (Full-time, day students in a school. High school students must be enrolled in a four-year normal program of courses) with an intellectual disability and/or a closely related disability with functional limitations in both general learning and adaptive skills may join.

Students enrolled in the 18+ program while not eligible for KISD Special Olympics as part of the 18+ transition program, are encouraged to participate in their local adult delegation, for more information contact Shauna Radke at 512-750-1469 or emailing sradke@sotx.org.
Registration
All students must register for sport-specific events before the registration closing window (see http://bit.ly/SOTrackRegistration).
Track and Field Registration is now open and will close on January 14, 2023.
Medical Forms
Special Olympics Texas athlete medical form, along with all other SOTX required forms on file in our office and completed in its entirety prior to the start of competition (see Medical Forms).
Become a Volunteer
Special Olympics Texas would not exist today and could not have been created without the time, energy, and dedication of thousands of volunteers.

There is no experience required; however, you must be at least 16 years of age, unless accompanied by an adult. Volunteers participate in an orientation prior to working with our athletes (see Volunteer Registration).

Students wishing to volunteer who are younger than 16 must reach out to KISDSpecialOlympics@killeenisd.org
Our Sports
Bowling
Location: Hallmark Lanes 4203 Shawn Dr, Killeen, TX 76542
Season dates: 9/26/22-11/18/2022
Practice date/time: Mondays, 5pm-6pm
Competition dates:
November 18 - 19, 2022.
Phantom Warrior Lanes
49010 Clear Creek Rd
Fort Hood, TX 76544

Basketball Camp
Location: Pratt LLC 505 E Jasper Rd, Killeen, TX 76541
Dates: 1/21
Competition dates: 1/21

Track & Field
Location: Shoemaker HS Track
Dates: 1/30/2023-5/12/2023
Competition dates:
KISD Area Track Meet
Saturday, March 25, 2023 at 8:00 AM to 5:00 PM
Joseph L. Searles III Stadium
4400 Chaparral Rd Killeen, TX, 76542

Calendar: Click here

If you have any questions, please contact:

Special Olympics Coordinator / Head of Delegations:

Kevin Lanxon

For more information on Special Olympics Texas, please visit:
https://www.sotx.org/