Distinguished Alumni Event Set Next Week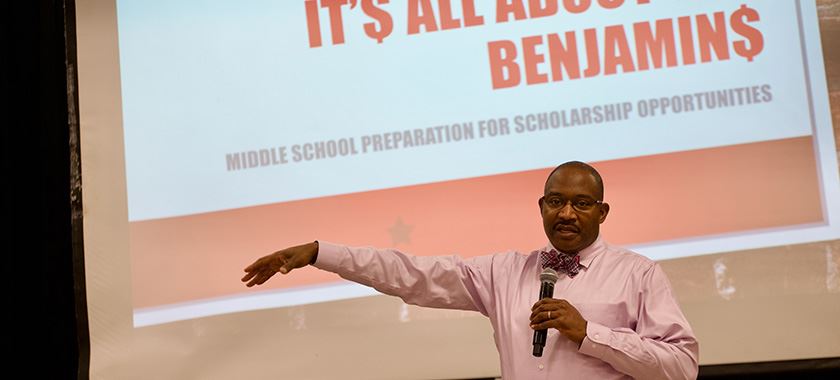 3/21/2023   By: Todd Martin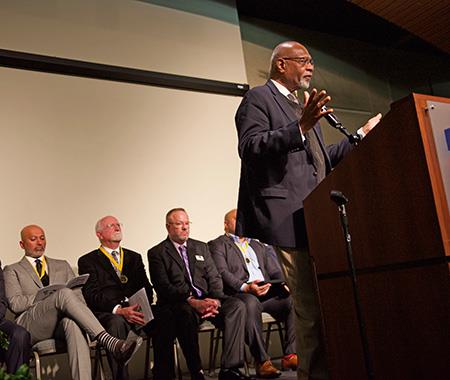 The Killeen ISD Alumni Association is honoring five new Distinguished Alumni and recognizing 71 recipients of this year's Education Foundation scholarships.
This year's Distinguished Alumni Scholarship Ceremony is Thursday, March 30 starting at 6 p.m. at the Killeen Civic and Conference Center. A reception begins at 5:15 p.m.
This year's distinguished alumni are Dr. Mary Ellen Cavitt, Alanah Lawrason, Sarah Cockerham Lynch, Dr. Sheryse Desiree Mobley and Judge Rick Morris.
Mary Ellen Cavitt is Associate Vice President for Academic Success, Dean of University College, and Professor of Music Education at Texas State University. A graduate of The Juilliard School, Cavitt started her career as a professional musician and music educator. she attended Harker Heights Elementary where her mother taught fifth grade, Manor Jr. High where she served as president of the student body, and Killeen High School where she was a 3-year TMEA All-State French horn player.
Alanah Lawrason is the owner/operator of Foggy Hill Farm. She attended Hay Branch Elementary School, Reeces Creek Elementary School, Nolan Middle School, and Shoemaker High School. She graduated 4th in her class and was the President of her Senior Class. In 2020 she opened her farm on Whidbey Island. During this time she collaborated with other farmers, coordinated outreach opportunities within her community and organized community outreach events at her own farm.
Sarah Cockerham Lynch attended Fowler and Bellaire Elementary Schools, Nolan Junior High, and graduated from Killeen High School in 1975.She taught for over 10 years in KISD. As a senior spouse, Lynch has been a staunch advocate for Army families. She is currently the COO of R Lynch Enterprises, and an Ambassador for the Gary Sinise Foundation and Homes for Our Troops. She is also an advisor for Operation Family Home. She and her husband, Rick, who retired as a Lieutenant General, moved 27 times during their service in the military.
Dr. Sheryse Desiree Mobley graduated from Killeen High School in 2011 and completed undergraduate studies at Texas Tech University School, continued to Kent State University, where she obtained a Doctorate in Podiatric Medicine, and was commissioned into the United States Air Force. She completed a 3-year Podiatric Surgery Residency at the Baltimore Veterans Affairs/Sinai Hospital Rubin Institute in Baltimore, Maryland, and was promoted to the rank of Captain. Dr. Mobley is currently stationed at Joint Base Elmendorf Richardson in Anchorage, Alaska where she serves as a staff Podiatric Foot & Ankle Surgeon.
Judge Rick Morris, a 1969 graduate of Killeen High School, was elected 146th Judicial District Judge six times. He was twice named Public Sector Lawyer of the Year, was Drug Court Judge, director of the Texas Center for the Judiciary and Judicial Section of the State Bar of Texas and is now a visiting judge and counsel to Baird, Crews, Schiller & Whitaker.
Scholarship recipients include:
HARKER HEIGHTS
Emma Allison
Emma Bertelson
Lauren Brooks
Nykaela Burks
Alyssa Cruz
Onaedochukwu Eneli
Lindsey Henderson
Ava Hugg
Evan Kime
Daniel Lanxon
Rebecca Mack
Lilliana Provost
Sophia Rios-Wallis
Brooke Ross
Richard Sporluck
Daejean Turner-Finley
Jeanelis Watson
Aaron Yang
ELLISON
Olivia Farmer
Olivia Fischer
Makenna Fulgham
Rylie Gawryszewski
Kera Harvey
Ahmad Kesbeh
Alesandra Nunez-Morales
Sia Patel
Xavier Payne
CHAPARRAL
Izma Dar
Logan Frishman
Zamya Lister
Abigail McIver
PATHWAYS
Patricia Devoux
EARLY COLLEGE
Isaac Almeida
Brandi Clark
Brandi Garcia
Tola Gormley
Phylicia Harkness
Judah Johnson
Andrea Newton
Linh Nguyen
Madison Nichols
Garyn Ogburn
Haley Redden
Avani Rouse
Alyssah Scott-Padmore
Nina Stinehour
Caden Towlson
SHOEMAKER
Alexander Angulo
Jissela Cabrera
Gabrial Jefferson
Nicole Martinez Cumba
Yazmin Ortiz Colon
Laura Quevedo
Fabian Ricci-Ramirez
Yahirnitza Torres Cruz
Shaylee Welsh
KILLEEN
Rachel Ballesteros
Fabiola Barron
Connor Beeman
Riya Bhakta
Damion Brown
Vonshay Burciaga
Kaycee Marjorie Caravana Gomez
Samir Chebaro
Jo'Naysia Collins
Hatem Muhammad
Chritopher Penn
Tramari Randles-Ladieri
Andreonnah Shaw
Ethan Whiteman
Ahnajah Wimbley
Back
Copyright © 2002-2023 Blackboard, Inc. All rights reserved.