Freedom Walk 2022 Honors Heroes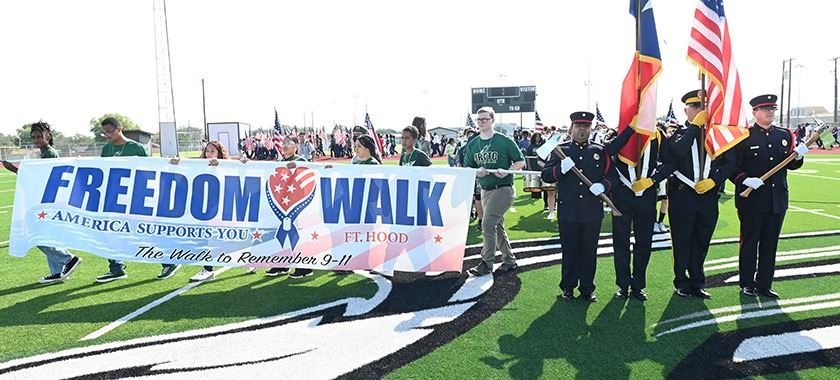 9/9/2022   By: By: Todd Martin
Remembering a tragic day and honoring the heroes it inspired, the Killeen community on Friday told its stories and urged a new generation to stand fast and to stand together.

Two days before the 21st anniversary of 9/11, Killeen ISD hosted the 16th Annual Freedom Walk at Ellison High School.

Police and fire departments from Killeen and Harker Heights joined the KISD police department with city, military and school district leaders, Gold Star families and Ellison High School students.

Following the official ceremony in the school auditorium, participants lined up and walked to the adjacent football field, proceeding beneath a pair of fire department ladder trucks and around the track.

The Ellison High School band drumline and Junior ROTC cadets led the way and kept the beat. The ceremony ended with bell tolls and Taps, honoring local families who have lost loved ones as well as the 2,997 who died September 11, 2001.

Harker Heights City Councilwoman Lynda Nash described the shocking tragedy of that day when hijacked airliners brought down the World Trade Center towers in New York City and crashed into the Pentagon.

"I thought this must be a hoax," said Nash, who was a soldier at the time. After checking in with her sister, she went on to a scheduled meeting, which was cancelled about the time the third plane struck the Pentagon.


The city councilwoman described another Linda, whose life was also changed that day. This Linda was on the flight that crashed into a field in Pennsylvania when passengers disrupted terrorists' plans.

That Linda, like the speaker, called her sister while in flight. She expressed her love, gave her the combination to a safe and said goodbye.

"We woke up the next day changed," said Nash. "I was proud as ever to be an American."

She said the nation came together in the days following 9/11, functioning as a family, respecting, and comforting one another.

Today, she said, the nation is divided by politics, race and other differences. "We can do better," she said. "We should do better."

Speaking to an audience of community leaders and high school students, she urged those in attendance to make family the top priority, to live in a way that would make parents proud, to make every minute count and to give grace to others.

Ellison senior Natalie Perez, the Eagle JROTC Battalion commander said she felt like the freedom walk represented an exchange of responsibility.

"It's an event passed down to us," said Perez. "The past generations bring on this American pride."

"I'm incredibly proud of my battalion," she said of her peers who led the walk. The high school senior said she enjoyed meeting Nash and finding connections in their lives.

"She said her reason for joining (the Army) to provide for her family was a selfish one," Perez said. "I can't imagine any reason to serve being selfish. This is really about honoring the past."

As always, the anniversary of 9/11 spawned walks and other patriotic activities across KISD. Students at Haynes, Ira Cross, Pershing Park, Reeces Creek and Cedar Valley conducted walks during the morning.

At Reeces Creek, Principal Sara Watson stood at a corner of the school encouraging students parading past. They waved flags, wore handmade hats, and carried signs. At times they burst into a chant – "USA-USA-USA."

"This is very important," Watson said, explaining that students were not born 21 years ago. "We have to teach kids history and the pride of being an American."

The principal said it was important to invite fire and police personnel, as well as Fort Hood Adopt-A-School soldiers so children could see those everyday heroes in person.

Command Sgt. Maj. Hipolito Rodriguez of the 2nd Battalion, 12th Cavalry Regiment told students that the bravery of heroes illustrates the way to success.

"That success," he said, "is achieved by perseverance, resiliency, bonds, and support. This country is built on dreams and goals."

While some will try to destroy those dreams, he said that working hard and leaning on family, friends and teachers will bring success.

"We're showing a lot of spirit to elevate," said Reeces Creek fifth-grader Alamea Rivera-Roman. "A lot of people lost someone that day. First-responders come to help. They come when it gets serious, and we don't want to forget."
Back
Copyright © 2002-2023 Blackboard, Inc. All rights reserved.